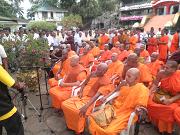 Download Sri Lanka's Muslim community has accused radical Buddhists of trying to damage peaceful relations between the country's religious communities.

A group of Buddhist monks has threatened to demolish a mosque in a sacred area of Dambulla, in central Sri Lanka.

The Prime Minister has backed the monks, ordering the mosque's removal.

It's raised concerns the government is pushing a nationalist Sinhalese agenda to divert attention away from the island's troubled economy.

Kara Douglas from Radio Australia has more.