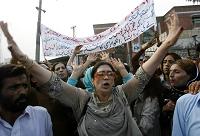 Download When we think of the socially conservative country Pakistan, we probably don't think of eunuchs.
But eunuchs are in the news there, because they have finally succeeded in being listed as a separate gender on the National Identity Card of Pakistan.
The new forms will take effect from January 1, 2011.
Thousands of eunuchs in the country will now be able to benefit from the new ID cards, as Shahab ur Rahman reports from Peshawar.
Sitting in small rented room 72 year old eunuch Gull Babo explains that she has not had an easy life.
"At the age of 11 I left my home and started dancing at functions. But after a traffic accident, one of my legs and eyes became disabled. So i am not able to dance and earn now. Eunuchs are creatures of God but our society doesn't accept us. They call us Hijra, who have long been stigmatized and subject to discrimination. Being poor and old we have the right to be treated like other citizens of Pakistan."
She has never had health, psychological, or therapeutic assistance. But she is optimistic ID card will open new doors.
"Hopefully, after getting ID card we will get some official assistance besides get rid of some social problems."
There are approximately 5-hundred-thousand eunuchs in Pakistan. In the conservative Muslim country, where sexual relations outside marriage are taboo and homosexuality is illegal, eunuchs are outcasts, compelled to live in groups in small rented residences, called 'Khotta'.
In 2009, the Supreme Court ordered the Authority to issue eunuchs national identity cards specifying their gender as "other".
35 year old Farzana, is the provincial president of eunuch She Male Association and she is happy that the court's decision is now taking affect. Issuance of ID cards was the Association's first demand, which has been accepted.
"ID card will help us a lot. This will enable us to live a normal life. Now we can participate in election to serve the masses. We have no families but we consider the people of society as our family. ID card will help us to open accounts, start a business and purchase land for construction. Before, we had no such opportunities but now we hope to get all these rights."
Farzana is now looking to get more rights for eunuchs.
"This is a big step of the government however now we need jobs, separate wards in hospitals like. Likewise we need assistance for our aged colleagues."
The government will now employ eunuchs. The social welfare department has a plan to reserve a special quota for eunuchs in public departments. Sitara Ayaz is the provincial minister for social welfare.
"Now the government will pass a resolution from the Assembly allowing reservation of job quota for eunuchs. Eunuchs will have the chance like females and special persons to get employment on their reserve seats in all official departments. Approval of the resolution will enable government to introduce new law about them. Cabinet will discuss the law and it finally it will be approved from the house. Hopefully before end of the current financial year, government will pass resolution in the house."
But despite the government's orders Pakistan society still treats eunuchs poorly. No one likes to eat with them or shake their hands. Human Rights Commission of Pakistan is trying to create awareness and modify the society's behavior. Malik Jarar Hussain says his commission will arrange a seminar.
"Like first generation and 2nd generation, eunuchs are eligible to get all the rights. HRCP has clear cut stance that being human they should be given all the rights. Identification and classification is their basic right. We are planning to arrange a seminar of politicians, as implementation of the decision will need drastic amendments in the relevant laws."
Though government will issue the ID cards next year, it will still be a challenge for the government to protect eunuchh's rights as distinct gender.
But eunuchs think the ID cards are an important first step.
When I speak to 22 year old Nisha, a eunuch, she is smiling, happy that her problems will now be resolved.
"The ID card will solve our problems. It will provide us the chance to visit abroad as we will get passports now. We will now be able to elect our own representatives who will help us to solve our problems. We for the first time have been considered as citizen of Pakistan. "
And being recognized as a citizen is half the battle won.