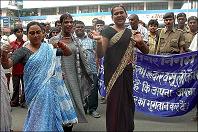 Download Last month on Asia Calling we heard how Eunuchs in Pakistan have finally been recognized as legal citizens of the country.
They now can get national identity cards that give them access to state health care and other benefits.
And they are also for the first time been given the opportunity to work for the government.
As Naeem Sahoutara reports they are doing a very usually job.