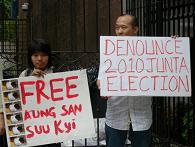 Download  Military-ruled Burma  will hold its first elections in 20 years on November the 7th.

The road ahead is far from certain, as new political parties struggle to compete with junta-backed favorites.

Candidates have to summit their names to the election committee by August the 30th along with 500 US dollars per name.  

At least 40 parties have registered to compete for 330 seats in the national parliament.

But Opposition parties say campaigning is very difficult as their activists are restricted by the military and they lack funds.

Burma correspondent Banyar Kong Janoi reports.