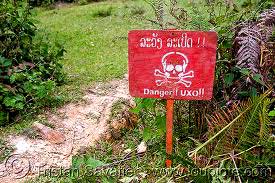 Download  An international treaty banning the manufacture and use of cluster bombs has just come into force, but some of the world's key military powers are refusing to take part.
The United States, China, Russia, Pakistan and Israel - all countries that stockpile, manufacture or use cluster munitions - haven't signed the treaty and therefore aren't bound by it.
Nevertheless, the treaty's supporters say it's a huge step forward for peace and disarmament.
But challenges remain for countries such Laos still heavily contaminated by unexploded bombs dating back to the Vietnam War.
Ron Corben has this report.