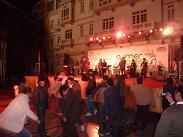 Download Bhangra music from the Indian state of Punjab has gain international popularity in recent years, both in traditional form and mixed with genres such as hip-hop, house, and reggae...like this...
Bhangra lyrics, which are always sung in Punjabi, mainly talk about love and dancing.
But there are also many Bhangra songs dedicated to Punjabi pride.
Ashok Masti is a Bhangra musician who is well known for creating new arrangements for traditional songs.
Our correspondent Jasvinder Sehgal recently met the star when he hosted a Punjab music night.
The lyrics of this song are "You are a beautiful young girl who has a good body and mind and you are a great dancer".
Most of the crowd of more than a hundred don't understand the meaning of this song.
It's sung in Punjabi not the national language of Hindi.....but they're all dancing like crazy anyway.
I am with a group of college girls who haven't stop dancing for at least an hour.
"Punjabi songs are full of life, they are very lively".
"The voice of the singer is also very nice, When he sings on Punjabi music, we feel like dancing."
The song is accompanied with the scintillating beats of "Dhol", a double-sided barrel drum.
Sumit Arora is the choreographer of today's event.
"Dhol is such an "in" instrument now a days, one of the oldest instrument in "Punjabi folk" and still is the best. Any function in our marriages or any celebration doesn't go without "Dhol".
Sumit says that the Punjab music is most immensely popular.
"You see that in every Indian film there is one big hit and that is always a "Punjabi " number and I can challenge and can assure you one thing that any singer from any where, any play back who come on the stage can never make everybody dance for one and a half hour."
On stage performing with today's star Ashok Masti are a group of male dances....wearing traditional outfits.
Pankaj one of the dancers has just come off stage to change his outfit.
"Michael Jackson is our inspiration; he is inspiration for all the dancers. We are incorporating western dances in Punjabi music such as Hip-Hop, Popping-crumping, Javing. We also do Punjabi folk dances like Bhangra and other semi classical dances, but my favorite is Hip Hop."
After the concert I join Ashok Masti for a cup of coffee and welcome him to our show.
"Ladies and Gentlemen we are with Ashok Masti, the famous voice of Punjabi Music. Ashok, tell us some thing about Punjabi Music."
"Punjabi music is a wide music; the beauty of Punjabi music is the beats and its energy. I am into Punjabi music since my child hood so I love it. Whole world is now enjoying Punjabi music."
Q. What is the reason for so much melody in your voice?
"I think it is only due to blessings of my audience and my parents and I must say it's God gift. So I'm trying to save my voice with practice and preserve my voice with hard work. And these days there is no poetry in the songs. After three-four days you forget the song. So, I am working on it in my own projects. I think if poetry is not good your songs are not everlasting."
Q. Can you sing some thing for my listeners?
"Yes Yes, Sure..."
This is the real Punjabi Music which is popular all over the world. Everybody dances to the rhythm and loves the music.