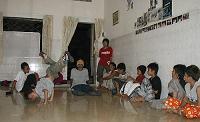 Download - Listen
Hip-hop dancing and rap music is a growing a sensation amongst young people in Cambodia.

And the art-form is being used to reach out to some of the countries most vulnerable citizens, the homeless and drug users.
 
Cambodian rap and Hip-Hop artists who have achieved fame and success in Cambodia and overseas have established a number of centers in Phnom Penh where young people can come and escape the trauma of drug abuse and poverty by learning how to rap and dance Hip-Hop.

In Phnom Penh Sorn Sarath met with some of these young wannabe Hip-Hop stars and produced this report for Asia Calling.
Inside his small room at a youth shelter and drop-in centre in Cambodia's capital Phnom Penh, 18-year old Kong Piseth is composing his next hip-hop hit on a lap-top.
He's half way through a new song titled 'Don't Think A Lot'.
Kong Piseth is one of Cambodia's youngest new rap artists. With help from other established musicians he has produced two sell-out albums. His music is also being sold in the United States.
Kong says most of his songs are about social issues affecting Cambodia.
"This is my wish so far and now I am reaching my goals. Right now all the kids and youth love Hip-Hop dancing and rap. Most of my songs are about drugs, life, love, HIV/Aids and other problems we are facing in our society. It is important to talk about these social issues. Rap singers are like the media, when we have something new to say, we have to tell the world." 
Kong dropped out of school at Grade 9 after his parents died. He has lived at the drop-in centre for three years. 
The centre is a rehabilitation facility established by a group of Cambodian Hip-Hop stars who live in the US. Here young adults and children learn computer skills, English, drawing, Hip-Hop dancing and rap singing.  
32-year old KK is an instructor at the centre. With his long curly hair and eyebrow ring he looks younger. The youths who stop by here have no trouble relating to him.
"You know every kids from every world every countries change after Hip Hop and I make Hip Hop into a school where kids can go to school, come to school join like computer classes, learn about drug and HIV and you know Khmer and English language."
KK also established Hip-Hop group called the Tinytoones. Over four years the group has helped more than 4,000 poor children and teens, some of them homeless and regular drug users.
The group now travels around the country and overseas performing Khmer Hip-Hop and rap music.
"They can make money of it, you know make a good living of it, go around different countries, travel, make show and then another good thing they can represent Cambodia as Khmer you know now we have Cambodian kids are break dancing have go out to other countries and say we are Khmer, we are from Cambodia you know and show Cambodia flag and represent."  
KK says learning Hip-Hop and performing will give young people the confidence to embark on other careers later on.
"In the future what I am trying to do is keep all my kids good job, maybe one day my kids could become a doctor, a lawyer or properly you know they will be happy man you know some of the kids might be a famous rappers and all these make me very proud of myself of what I did."
24-year old Chhun Sambo is one of Tinytoones Hip-Hop dancers. He used to live on the streets and use drugs. But since joining Tinytoones life has taken a dramatic turn he says.
"I stop going to school when I was seven years old because my family was so poor. So I picked plastic bags on the street and made money. And in that time I used drugs. I used drug for many years beginning in 1994. But in 2004 I met KK and he started bringing me here."
Back at the drop-centre 18-year old Son Makara is bowling with friends. He has been coming here for nearly two years and says the Hip-Hop community saved him from drugs.
"I have changed a lot. Before I used drugs and my clothes were very dirty. And I never went home and had no friends. But after learning Hip-Hop dancing I have money, I have new clothes and I am back in my home and have a lot of friends. I am very proud of myself and my parents are very happy when they seen me on TV."
According to a report by Cambodian based Friend Organization in 2008, 42 percent of street children use drugs. A popular choice is Yama or methamphetamine.
It may be imported culture but Hip-Hop is one way of reaching out to these vulnerable young people and also educating them about the dangers they face on the streets.
By using Khmer language, these young people are making Hip-Hop their own and changing their lives in the process.