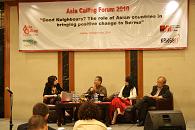 Download This year looks set to be a crucial one for Burma.
The military government has announced that the first elections for 20 years will be held on November the 7th.
Attempts to affect change from with in the country have been answered with the brutal suppression of political dissent.
Despite international recognition of the need for change in Burma, economic sanctions and isolation appear to have had little impact on the country's military rulers.
So are these elections an historic opportunity to create positive change or will they cement the military government's oppressive rule further?
Asia Calling held its 2010 forum this week to discuss: 'Good neighbours? Bring positive change to Burma'.
The first speaker is Harn Yawnghwe (YONG-WEI) the youngest son of the first President of the Republic of the Union of Burma and the Director of the European Office for the Development of Democracy in Burma based in Brussels whose aim is to prepare Burma for a transition to democracy.
He believes the elections are a step forward.