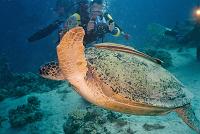 Download  -  Listen
Today on Asia Calling to mark World Environment Day (June 5th), we begin a series of stories on environmental initiatives being undertaken across our region.

In recent weeks we've been exploring the Coral Triangle, a vast underwater wilderness that spans the island of Bali, in Indonesia, the northern tip of the Philippines and all the way to the Solomon Islands.

Scientists describe the region as "the Amazon of the seas" because of the sheer diversity of life that can be found beneath its depths.

Six out of seven existing species of sea turtles dwell here. Among them, the leatherback turtle, or "giant turtle", a huge animal that can grow up to 2.5 meters long and weigh as much as a small car.

The leatherback is critically endangered, especially in the Pacific Ocean, where only 3,000 females nest each year.

Three quarters of them choose one of four beaches along the remote northern coast of the Indonesian province of Papua.

Our reporter Solenn Honorine recently visited the district of Abun nearby several of the beaches were Leatherbacks nest. 
There, local villagers are helping the World Wildlife Fung to protect the turtles.