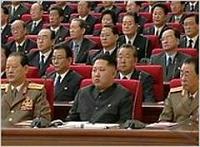 Download Little is still known about North Korea's heir apparent Kim Jong-un.
A week ago he was promoted to high positions in the military and government.
But most people inside and outside the secreative state didn't even know what he looked like until photos and video were released of the young general, thought to be in his late 20s.
Some observers say you can learn a lot about Kim by studying those images.
And it's his round, chubby face that might say the most about what kind of leader he may become.
Jason Strother has more from Seoul.