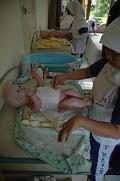 Download An Indonesian house maid who has accused her female Saudi employer of stabbing, beating and burning her appeared in court for the first time this week.
23 year on Sumiati Bint Salan Mustapa showed the Saudi judge her wounds: broken bones, burns to her head from a hot iron and cuts from scissors.
There are six million Indonesian women working as nannies, cleaners and cooks in wealthier countries like Malaysia and Saudi Arabia.
And despite frequent horrific cases like Sumiati's more women leave daily.
To try and better prepare these women for the tough job ahead of them training centers have been set up in the Indonesian capital, Jakarta.
Esther de Jong went along to one of them called Amri Margatama in the satellite suburb of Bekasi.