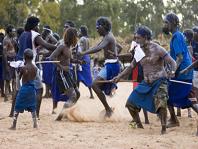 Download - Listen 
Australia's Indigenous people are under serious threat.
Aboriginal leaders say a large percentage of their people live in abject poverty in one of the world's richest nations.
And their diverse cultures and languages are disappearing.

To combat this, the Yolngu tribe of East Arnhem Land holds an annual festival to show case their culture and to teach their young their ancient rituals.

Michael Leung visited this year's Garma festival and found modern technology preserving one of the world's oldest cultures.