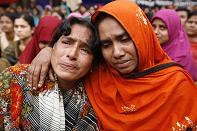 Download   Recently on Asia Calling we heard how a group of Bangladesh nurses threaten to burn themselves alive if their demands for employment weren't met.

At the last minute, the Minister of Health promised to address their grievances and they went home...still without jobs.

But while the striking unemployed nurses have gone home, they haven't given up the cause.

Bangladesh Ric Wasserman investigates the causes of the nurses' strike and began by taking a look inside one of the country's hospitals.