Ron Williams : Burma/Northern Thailand
Ron Williams was born in Burma. He was exiled after a crack down by the Burmese military post the 1988 uprising. He was an student activist till 2000 he then decide to turn to journalism. He is now the editor for Network Media Group, a stringer for the BBC-Burmese Service and Asia Calling's correspondent. He also gives training to exiled Burmese journalist in his home town of Chiang Mai in Northern Thailand.

Ron Corben: Thailand
Ron, from Sydney Australia, has been based in Asia for almost 20 years, and has travelled throughout the region. His focused is on Thailand but he also closely watches events in Burma. His work has also taken him to Vietnam, Malaysia, Taiwan, Korea and the Mainland China. Before moving to Asia Ron worked fulltime for Australian Associated Press, the national news agency, in Sydney.

Madonna Virola: Philippines
Madonna Virola is a community-based journalist. She is a correspondent of the Philippine Daily Inquirer. She's interested indoing stories in the countryside, on topics concerning various sectors like tribal people, women and children. She travels across the country but keeps her residence in Mindoro Island. She's on the lookout for inspiring stories which can provide solutions to pressing issues. A lacto-vegetarian, she loves splurging in silence early in the morning.

Sorn Sarath : Cambodia
Sorn Sarath, is the Business Editor at the Phnom Penh Post. He is also the Youth Program Coordinator at Student Movement for Democracy. Sorn is very interested in politics and enjoys working for an NGO. In the future he would like to be a lawyer. During his free time he loves being outdoors, playing football, listening to the radio and watching TV.

Mudassar Shah : Pakistan
Mudassar Shah is a freelance journalist based in Fata, Khyber Agency Pakistan. He did his thesis on Religious Elements in Samuel Beckett's Waiting for Godot as an integral part of his master's degree in English. Shah has worked for a TV channel in Afghanistan and Waziristan for six years, besides working as a communicaitons officer for International Medical Corps (IMC). He will be working on a project on media and conflict in Afghanistan/Pakistan.

Saif Khan : Germany
Multi-Media journalist based in Germany. Affiliated with Pakistan's Premier Radio News Agency; Pakistan Press International. Likes to write about politics, economy and security to environment, culture and social issues. Has a masters degree in journalism and is working at the DW Urdu service. Khan started contributing for Asia Calling in 2008. He is interested in meeting people from different cultural backgrounds .

Zubair Babakarkhail : Afghanistan
Zubair Babakarkhail, was born in 1981 in Kabul Afghanistan. When he was three years old he and his family migrated to Pakistan because of the Russian invasion to Afghanistan. He got his diploma in journalism there and returned to Afghanistan in 2002 and worked with Institute for War and Peace Reporting (IWPR) in 2003. Apart from being a correspondent for Asia Calling, he is now working part time as an editor and reporter at Pajhwok Afghan News Agency and also the Canadian Broadcasting Corporation (CBC) as a Production Assistant for the programe (As It Happens). He is now doing research with another journalist for a book they will be writing about Afghanistan. Zubair ia also a member of the South Asian Free Media Association (SAFMA).

Malyar Sadeq Azad : Afghanistan
Malyar Sadeq Azad has been an investigative reporter, radio announcer and writer for Killid Media Group since 2007.H was already interested in radio and the press since he was nine years old. During the Taliban regime he ran an Adults Program in a state-run radio in Ghazni province, where he was born. Malyar has gone through a lot of journalistic training held by Internews Europe in Kabul. He is particularly interested in official tours and for this purpose has visited all provinces in Afghanistan, United States, Italy, and Pakistan. The most exciting thing for him is seeing his investigative reports featured in various media.
Rajan Parajuli: Nepal
Rajan Parajuli is working as a senior producer at AFN, a production house in Kathmandu. He had worked for environmental programs for 4 years. He has been producing different features and audio magazines based on conflict, peace building, business and politics etc. Apart from that He also hosts live national talk shows and other discussions programs.

Sunil Neupane:
Nepal
Sunil Neupanebeen in journalism for 9 years. He started his career as a print journalist and has worked as a correspondent for a national daily in Eastern Nepal. Later he became regional the FM station manager for two and half years. He is now the editor at Ujyaalo 90 network, a national networking FM station in capital city Kathmandu) and currently he has been working as an editor. He is interested in investigative reporting, and some of his investigative reports has been published in magazines and broadcasted by radio. Sunil has been working for Asia calling since January 2011.

Ponniah Manikavasagam : Sri Lanka
Ponniah Manikavasagam is a free lancer veteran print and radio journalist in the war torn northern part of Sri Lanka. He reports for the BBC Tamil Section from northern most border town of Vavuniya for over 15 years. He has reported for Reuters for over 10 years, while the Indian Peace Keeping Force was sent to Sri Lanka in 1987. His contribution to the leading Tamil national newspaper Virakesari on Sundays is said to be remarkable which revealed the inside stories of sufferings of the people who were caught in the armed conflict between the government forces and the Tamil Tiger rebels. His reports to the BBC is a window of the northern theatre of war to the outer world. He also files for FSRN since 2002. He joined Asia Calling in 2007.

Michael Leung : Bangladesh & Australia

Mikey Leung is a freelance journalist based in Darwin, Australia. Originally hailing from Canada, he spent the last few years writing a new guidebook to Bangladesh for the UK's Bradt Travel Guides, while working for various worldwide radio and print outlets at the same time. Other country experiences include China, Cambodia and Thailand. He also speaks fairly garbled versions of Chinese and Bengali but manages to keep himself out of trouble.
Ric Wasserman :

Sweden
Ric Wasserman is a freelance television, radio reporter, and filmmaker who was based in Dhaka, Bangladesh. He set up the CNN World Report bureaus in both Angola and in Sweden, producing weekly news reports from both countries for 14 years. His production company Consigo Productions based in Sweden (www.consigo.se) has produced documentaries from around the world.
Ric Wasserman is now based in Sweden.


Jason Strother: South Korea
Jason Strother has been covering headlines from Seoul since 2006. He began his career in local news in New York City. Jason's radio reports can be heard in the US, Europe and Asia. He is passionate about traveling and intends to stay in Asia for the foreseeable future. Jason holds a MA in International Relations from the University of Kent-Brussels and a BA in Broadcasting from Montclair State University in New Jersey.

Elise Potaka: China
Elise Potaka-Osborne has worked in community and public broadcasting for over 8 years. Elise has reported for both local and overseas services on issues affecting Australia and the region. Elise values independence and integrity in reporting.
Grace Wu: China
Grace Wu has been working in radio broadcasting for both local and overseas services. Receiving her Masters degree in Journalism in the UK in 2004, Grace now focuses her coverage on culture & development issues in China and strives to reflect the gains and pains China is facing in the process towards modernization.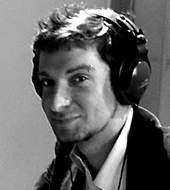 Daniel Bastard: China
Daniel Bastard is a French free-lance journalist and documentary filmmaker based in Beijing, for over five years. His radio reports can be heardin English or French in Asia, western Europe and North America. He's keen on focusing on human stories that lie behind the big headlines.


Shuk-Wah Chung: China
Shuk-Wah Chung is an Australian Freelance Radio/Print Journalist based in Beijing, China. She joined Asia Calling in 2008 and since then has reported on some of t he country's major issues and events like the Beijing Olympics 2008; Xinjiang riots 2009; and the growing urban and environment changes.
Her media career has been diverse, having worked as a Technical Operator/Producer for the Australian community radio network; an Audio/Radio Trainer for migrant communities in Australia; and a Project Manager for a youth radio broadcast.
She believes in media for its ability to give people a voice and for the wonderful, strange and exciting opportunities it brings.

David Bergman: Bangladesh

David Bergman is a journalist living in Bangladesh. He is currently 'Special Reports Editor' for Bangladesh's English language national paper New Age, having previously had short stints at the Daily Star and bdnews24.com. He recently returned to journalism after a break of ten years during when he run a UK based NGO called the Centre for Corporate Accountability. Prior to his time in the NGO sector, he worked for Twenty Twenty Television in London making TV documentaries for Channel 4 and ITV.

Naeem Sahotra: Pakistan

Naeem is affiliated with Pakistan's Premier Radio News Agency; the Pakistan Press International. He has been contributing print stories for PPI News Agency for last five years. He has covered historic lawyers' movement aiming for an independent judiciary and against Chief Justice's sacking by then military dictator and also the worst-ever flooding in Pakistan.

He Likes to write on issues relating to political, social, environmental, human rights and inter-faith harmony. Love to meet people and explore new places.

Yasir Khan: Pakistan

Yasir has been a reporter at PPI News Agency since 2007. He has a master's degree in mass communication and has been covering strories on socio-religious, terrorism, economics and political issue.

He is also contributor for the opinion page in the daily Pakistan Observer.

During his spare time he loves listening music, traveling around world, and spending time with his family and relatives.
Banyar Kong Janoi: Hongkong
Banyar Kong Janoi is a radio, print and online news journalist covering the current affairs about Burma, Thailand, Hong Kong, including in the conflict area in Thai-Burmese border. Kong joined Asia Calling in 2007 when the saffron revolution started in Burma.