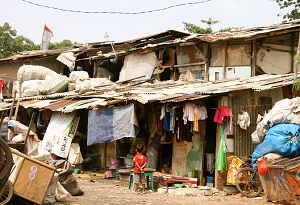 Download Obtaining a birth certificate in Indonesia is something of a bureaucratic headache.

But it's more of a headache without one.

It closes the door to formal education and healthcare and a range of other fundamental rights.

In Indonesia, it's a problem for more than 30 million children across the country.

Kate Lamb visits a school for street children in Jakarta to look at the realities of an undocumented existence.
Tucked away in the alleyways of Jakarta is Sekolah Jalanan, or a 'school for street children.'
Today the students are practicing a song they have been learning for several months.
The students chime in and out, sometimes in tune, occasionally missing a line or two – but they know the chorus off by heart.
It talks about wishing to return to school.
Open from Monday to Thursday from 9 am to noon, Sekolah Jalanan is not as disciplined or demanding as formal school.
Pipit, who founded the school three years ago, explains why the students need more flexibility.
"It for economic reasons. They have to help their parents collect and sort garbage. Most of them are scavengers. Some of them live on the streets, some of them busk on the street. Everyday they have to make money and when they go home they have to give the money to their parents."
Today there are only 10 students, but some days there are up to 30.
Aged between six and 13, the kids pile into a small room to study Math, Music, English and even Japanese.
"Why did I start this independent school for street children? Because I am concerned, those children are assets of the Indonesian nation. Those children must be smart. Those children are the seeds of the nation, of a successful generation. They must be smart and they must have rights."
Rights are exactly what these children are lacking.
Most of the students that attend this school do not have a birth certificate.
Without that one small piece of paper, they can't attend a proper school.
"Birth registration is a part of the first identity for the children to become citizens because it is linked with other rights. Identity, nationality, right to education, right to health…"
That's Amrullah Sofyan, a program manager at Plan Indonesia, an NGO that focuses on child rights.
He says that not having a birth certificate leads to a long line of problems in the future.
"The other thing is when they enter formal jobs they need to be registered by the government. When they go abroad, for migration they will need a birth certificate to get a passport. The other thing is when they get married they will be registered by the government, that is some difficulties they will be facing in the future. That's why we advocate now, that's easier than already late."
Last year Plan conducted a survey in five slum areas in Jakarta. The organization found that two-thirds of the parents surveyed had never applied for birth certificates for their children.
Across the country the figures are far more alarming.
Plan says that more than 30 million Indonesian children are unregistered.
That's more than the entire population of Australia….
Applying for a child's birth certificate can be a complicated bureaucratic process, admits Ferdy, an official from the Social Affairs Ministry.
"In Jakarta, it is difficult to apply for a birth certificate. You have to have an identity card, the parents must have a letter of birth from the midwife and their certificate of marriage, and they don't have all of that. The street children just don't have those."
Many of the children that attend Ibu Pipit's school live in a nearby slum.
People make a living from recycling and sorting through trash.
26-year-old Santi invites me into her makeshift wooden shack with just one room, one bed.
She has three children – none of whom have birth certificates.
"It's like this, maybe it's hard to process birth certificates now, it's expensive. The problem is like this. If they don't have the birth certificate, they can't go to school, they won't have a future. That's what we've got to think."
She says she's worried about her children's future.
But birth certificates are just not a priority right now.
"Yes, I'm worried. Of course I'm worried. Because we have to see the conditions, they are very tight. We have to be just grateful that we can eat."
Indonesia's Social Affairs Ministry has recently embarked on a new program. The goal is to give every child a saving account with Rp1.5 million rupiah.
The funds are intended to cover basic needs such as education and health.
But without a birth certificate, 30 million Indonesian children are unlikely to ever graduate.
Amrullah says the government needs to do more.
"We ask the government not to be blind to the people because it is a reality. Street children, marginalized children are a reality. The policy should be open."
Until then, for these Jakarta street kids, it's informal school, or nothing.