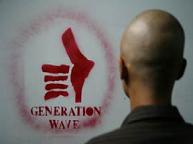 Generation Wave is a group of hip-hop-loving, young Burmese, dedicated to overthrowing the military government.

They tried boycotting the election and are demanding a social revolution.

In this next song they rap "Don't Give Up! Be brave say what is not right!"
For more information about the band listen to our interview with the band.
Hear one of their tracks here.
Generation Wave
Generation Wave
WhomadeWho