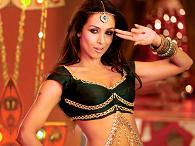 Download There is widespread distrust and hatred in Pakistan towards its neighbor, India, however, when it comes to music it's a very different story.
Indian artists are hugely popular in Pakistan.
At the moment it's this song "Munni badnam hui" a song from the Indian movie Dabang that is creating a storm in Pakistan.
It figures sexually explict lyrics about a girl and her disgraced boyfriend or 'darling'.
As Yasser Khan reports it's having an impact in some unusual places.