There are no translations available.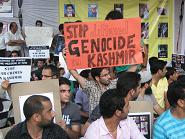 Download  The situation in the Indian controlled Kashmir remains tense with no respite in clashes between local protesters and Indian Security Forces. 

The death toll now stands at 51.

The continuous civilian killings are now evoking protests from Kashmiris living outside the valley.

Bismillah Geelani has the story.