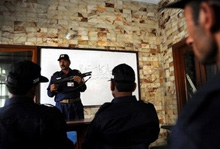 Download  Private Security is a booming business in Pakistan.
There are now more than 600 private security companies operating across the country.
Almost all of them are run by retired armed forces and police personnel.
While the companies are making a good profit from the insecurity in the country the security guards themselves say they are earning very little and are on the frontline.
Mudassar Shah meets some of them in Peshawar.
It's five am and 58-year-old Rahman Khan hops on his old bicycle and rides to his post outside an international NGO office in Peshawar.
It takes him one and half hours to reach it.
He retired from the Pakistan Army in 1985 and since then he has worked for the G4S security agency.
"I know I will be the first killed by suicide bombers.  They targeted and killed security guards at the American consulate last month. But I cannot leave this job. I am staying in order to get my pension when I turn 60.  Then I will be able to get 25 dollars a month as a pension."
Rahman works 12 hours a day seven days a week.
He has been with the company for 14 years.
He gets no holidays. If he takes a day off he loses money.
That's what happened when his son was killed in a road accident.
"My son left school because he realized that I cannot fulfill the needs of the family. He started working as a helper on a bus.  I was on my duty when I got news of his death in an accident. I brought the dead body of my eldest son from the hospital home.  My company did not support me during that difficult time but rather cut my salary for those five days which I took for the death of my son. I cannot forget the cruelty of that. They should have helped me but who cares and listens to the poor."
Rahman's company is jointly owned by a former army officer, Ikram Sehgal, and the US security agency, Wackenhut.
Private security is a good business in Pakistan these days.
There are more than 600 major private security agencies. Almost all of them are run by retired armed forces and police personnel.
Retired major, Munir Ahmed, is chairman of the All Pakistan Security Agencies Association.
"I cannot tell you how much these security companies earn. It depends on the volume of its business. But of course if they were not earning they would not be running security companies. Of course the staff is definitely ex Army and ex service personnel, I would say there are a lot of people working who are retired air force officers, navy officers and army officers even the police so it is the mix but definitely there is an edge I would say that there is a lot of ex army people who are running security agencies."
Analysts say it's a 60 million dollar per annum industry.
International organizations, companies and the rich hire private security guards because they don't trust the Pakistani police.
The companies hire retired Army or police personnel because they don't need security training.
But the demand for guards means companies are now being forced to hire fresh blood.
The G4S company is currently hiring in Peshawar.
Young men stand in long lines for more than five hours for a job interview.  Many leave disappointed.
One of them was carry a graduate degree from Peshawar University.
"I am a poor man and have no references to get a security guard job. It is for people who have references."
Most security guards complain about low salaries and being given old weapons.
Fifty-nine-year-old Shabeer Ahmad stands outside a three storey building with an old dirty gun in the hot midday sun.
He works for the PHONEX Security Agency which is a joint venture with US based Brinks Inc.
"I worked for 13 years as a driver with the security company and then they discharged me and then rehired me the next day and reduced my salary to 82 US dollars a month."
When I ask his senior officer about providing shade for the guards he snaps back that if they don't like it then they can find another job.
The hot sun is not the most serious threat these guards face.
One of the drivers of the armored trucks, a 58-year-old man, speaks on condition of anonymity about the dangers of the job.
"I know my duty is risky and I can die any time. Once 25 people opened fire on us when we were carrying cash. I was shot with bullets and then hospitalized for long time. Four other people were also shot and I drove fast and saved them all. I also saved the cash and reached a nearby police station safely. There are still pieces of glass in my neck but I cannot afford surgery to take the pieces out of my neck I only earn 60 US dollars a month."
Asia Calling requested an interview with the management of G4 security offices in Peshawar but they refused to comment.
Twenty-year-old Ashraf Khan weeps loudly while working in a mechanics workshop.
His father was a security guard and died in a bomb blast in Peshawar last April.
He received nothing from the company.
"I went several times to the security agency office but nobody met with me. People in the office looked down on me. I need their help and support as my father died on duty. The least they could do is to give me a job. I could be a better security guard than a 60-year-old man. But I do not have any references or money to bribe the officers so I work as a mechanic."