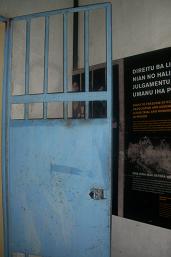 Download During Indonesia's 24 year occupation of neighboring East Timor the Balide prison was place of horror.

Built in 1963 during the Portugese colonial period it was used by the Indonesians as a prison for political prisoners who dared support the independence movement.

Thousands of people were held there.

Now the notorious building is a museum that is teaching the next generation about the country's dark past.

Citra Prastuti takes us on tour.
25-year old guide Eugenia Lopes leads me into the only part of the prison which has not been touched since the Portugese era.
Eight tiny, dark cells with high ceilings.
"It's was not only for men, but for women also. According to the history, those who wanted independence (from Indonesia), were taken here and tortured inside this prison. Let's enter... (this is one of the cells) Prisoners will be inside here, 20-30 people will be here. According to history, in the morning there are more than 30 people inside, but in the afternoon, it will be less, and nobody knew where they have gone."
Eugenia was just a little girl when Indonesia invaded East Timor.
"When I first got here, I felt sad and a bit afraid too. There's a feeling of hatred towards Indonesians, how come they were so cruel to Timorese people? But perhaps it was because of the politics that time."
People who were taken here were asked one question: do you choose Indonesia or East Timor?
Answering 'East Timor' or 'independence' lead to torture.
The prisoners were given one tablespoon of food a day and a limited amount of water.
Each cell has just one small ventilation hole.
"Indonesian military used to observe the prisoners through this hole. The family of the prisoners sometimes came to visit. They will not be allowed the prisoners to go out or visitors to enter, so they just talk outside. (And it's a very small hole...) They can only see the eyes... so this is the history."
There's a huge picture in the corner of one of the cells of a naked women covered in blood lying on the ground. A military foot is stepping on her arms.
The photo taken by the Indonesian military allegedly shows a woman who was gang raped before being thrown against the wall and killed in the exact place where the picture stands.
Another one of the cells was used as a torture chamber.
"The dirty water came out from the destroyed toilet there, then the military added more water. It's like a water container here. Then they put prisoners inside, for one to two weeks. The old white cable used by the Indonesian army to electrocute people is still hanging from the wall."
On the metal door of the cell is a cross drawn in chalk by one of the prisoners.
Next to it are the words: 'don't forget to pray'.
There is now a board in this cell filled with names... 450 so far. Families are encouraged to add the name of their loved ones who were imprisoned here.
A fact-finding commission set-up after independence found that at least 100,000 Timorese died as a result of Indonesia's 24-year occupation, which ended in 1999.
In one of the rooms of the museum Indonesian human rights activist Yeni Rosa Damayanti is speaking on a video.
"Lots of my friends asked me, where were Indonesian people when East Timor was tortured by the Indonesian army? Where were we? The answer is that we did not know. We did not know what happen here. There was no information for us about the devastation of the people in East Timor."
The Indonesian media was tightly controlled under the leadership of General Suharto, who ordered the invasion of East Timor.
In one of the rooms of the Balide prison is a huge blackboard where visitors are encouraged to write something.
"We can read here... one of them is "God bless East Timor", "Peace love unity and respect", "With God there is hope and peace for Timor" and another thing is... "Remembering is an act of human dignity"."
Following the independence, Timor Leste government has chosen not to demand justice or compensation from Indonesia for past abuses.
They have instead taken a conciliatory approach which they claim will help the country move forward and develop its poor economy.
Prison museum tour guide Eugenia says many visitors find this confusing.
"They will ask a lot of questions. Sometimes the children would ask who were the political prisoners inside here? Why they had been tortured inside? The children, especially students will ask... what is... I mean, the Indonesian military they already committed serious crimes in Timor Leste, what is the punishment for them? They will ask always about that."
An ad hoc Human Rights Court set up by Indonesia and the UN in East Timor tried 18 people for alleged crimes committed during 1999.
All were acquitted.
Gilberto Paulo is a Timor police officer, who is visiting the prison museum with some friends. He agrees with the government that it's time to move on...
"I don't hate Indonesian people. Perhaps it was just the regime that made us like this. So why should we hate things that happened in the past? We should be able to omit unwanted things and focus on how to create a better relationship with Indonesia in the future. As a person, I don't feel any need for revenge. God forgives people, so why can't we?"
But the current exhibition at the prison museum is called 'Chega'... my guide Eugenia explains what it means.
"It means stop, no more or enough. It was the principal message from the ex political prisoners who were imprisoned here. According to them, the violations, the conflict that happened in the past, that will not happen again in the next generation."