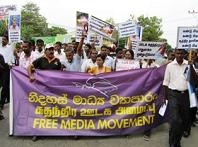 Download Sri Lanka's three decade long civil war was brought to an end in May 2009.
But, the media continues to face suppression, while dozens of journalists live in exile.
DushiYanthini Kanagasabapathipillai reports on a rare protest by journalists in the North of Sri Lanka demanding greater protection.
"Keep Writing" chanted the 350 protesters in Jaffna. They stopped traffic in the cities busiest street for more than an hour.
They are here in response to a brutal assault on the news editor of Jaffna based Tamil newspaper.
Gnanasundaram Kuganathan was seriously injured in the attack by unknown men four weeks ago.
He is slowly recovering in an undisclosed place.
President of Sri Lanka Tamil Media Alliance Bharati Rajanayagam says it was not an isolated event.
"Tamil journalists have been attacked in Jaffna. Earlier, journalist Nimalarajan was attacked and killed in Jaffna. Attacks on journalists continued in Jaffna. The Sinhala journalists from Colombo have come to Jaffna in large numbers, and are protesting for the first time. When the journalists in Jaffna live in fear, and are afraid to protest on the street, the participation of the Sinhala journalist's helps."
To show support for journalists working in the restrictive north a group of 47 journalists and activists travel from Colombo to Jaffna along the main highway known as A9.
They carried placards and chanted continuously in Tamil and Sinhala "Do Not Kill; Do Not Kill Us; Do Not Kill the Journalists; Do Not Kill the Democracy"
Sunil Jayasekera is a Sinhala journalist and the Convener of the Free Media Movement of Sri Lanka.
"We have decided to come to Jaffna to show solidarity and respect the courage of the journalists here. We cannot keep quiet we want to put pressure on the authorities to bring the culprits before the law, and safeguard media freedom. Uthayan newspaper that is published in Jaffna has been attacked a few times. The journalists in Jaffna live in fear. News Editor of Uthayan newspaper was brutally attacked recently. No action has been taken by the authorities to change this situation. Kuganathan was under threat. Armed men came in search for him on the World Press Freedom day in 2006. They shot and killed journalists and damage their equipment. They were looking for Kuganathan for the first time to kill him. Nobody has been punished with regard to these incidents, no action was taken."
This was the first time Tamil and Sinhala journalists had protested together in Jaffna.
President of Sri Lanka Tamil Media Alliance Bharati Rajanayagam says they can't remind silence.  
"Although it is said that the war is over and peace prevails, freedom of expression is suppressed especially, the voices trying to tell the the plight of the people. Tension prevails in Jaffna. Tamil and Sinhala journalists standing together and protesting about this is a new phenomenon."
In a recent statement the International media watchdog Reporters without borders called on authorities to bring those behind attacks on journalists in the North to justice.