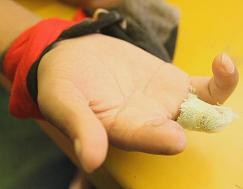 Download There is close to a million Nepalese working in Malaysia.

They come for jobs in manufacturing and construction.

Many never return home.

According to the Nepalese government close to 2,000 of their migrant workers died in the last eight years in Malaysia…. mostly in work site accidents.

As Maran Perianen reports, they have little or no protection.
23-year-old Minu Singh Sherpa, arrived in Kuala Lumpur from Kathmandu, three years ago.
The idea was to save enough money to settle a debt and build a house for his family back in his village.
But two months ago these dreams were dashed…
A stainless steel sheet carried by a forklift fell on his hand…
"I came all the way here to earn money but now I have lost my fingers and cannot work. I asked my boss for compensation but he said that I'm not entitled to be covered under insurance."
He doesn't have enough money to go home.
Since the late 90's, thousands of Nepalis like Minu Singh Sherpa have arrived in Malaysia.
Many work 12 hours or longer for meager salary, often in unsafe conditions.
And if they die or are injured on the job they are treated differently from Malaysian workers.
They are dealt with in the Workmen Compensation Act from 1952.
S. Somasundram is an officer from the Malaysian Trade Union Congress.
"Workmen Compensation Act needs urgent review. How can you set a figure of RM25, 000 for a human life? I think the amount is extremely low."
That's about 8,000 US dollars that a boss has to pay if one of their workers dies.
Somasundram wants to see foreign workers be treated the same as Malaysians.
"We want these workers to be covered under the social security."
But Malaysia's Human Resource Minister, Dr. S Subramaniam recently told Al Jazeera that they had no plans to increase the compensation amount.
He added that those who feel the amount is insufficient can bring it up through a proper channel.
"When my fingers were cut, no one helped me. I lodged a complaint at the Nepal Embassy but they didn't take it seriously. When I want to claim my insurance money and compensation, my boss ignores me. My friend said I will get 1500 US dollars but my boss said the company will only give 250 US dollars."
After given him this money his boss told him to go back to Nepal.
Bed Kumar Khatiwada is the Support Group Coordinator from the Federation of Nepalese Trade Union, Malaysian Chapter.
"We can't really understand, why they go to a level where they abuse the workers and go to an extent to deport them back to Nepal. If there is insurance money, just pay or if there is an accident, just help the worker."
But the government is not concerned.
Malaysia's Human Resource Minister, Dr. S Subramaniam says the numbers are wrong.
He says the number of industrial accidents in Malaysia is the lowest in the region.
Minu Singh Sherpa story is a common one.
Early this month, Nepal's Foreign Employment Promotion Board reported that more than 100 of their workers had died in Malaysia in the second half of last year.
But for Mina Singh, Malaysia was very different to what he had hoped.
"When I go back to Nepal, I will tell my friends who are coming to Malaysia to work, to be very careful because if you are not, you will end up like me."