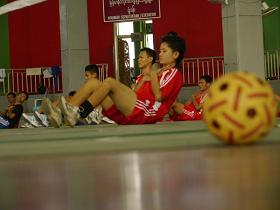 Download This year's SEA Games will be the first major international event to be held in Burma since the end of military rule.

Many things are at stake and Burma can't afford to lose face.

Earlier this month, Burma announced it had dropped several popular games and included domestic sports instead.

Cherry Htike and Banyol Kong Janoi have the story.
It's a busy morning at the new Nay Pyi Daw sports center.
The government claims it's the best sporting facility ever built in Burma.
Kyaw Zin Moe is the Deputy Director of the Ministry of Sports.
"I've been in the Ministry of Sports for more than 10 years. I've never seen this kind of facility before."
Some parts of the stadium are still under construction and athletes are training intensively from morning until evening, six days a week.
Burma wants to impress...
"By holding the SEA Games is a chance to show off our muscles to our neighbouring countries. We can show our domestic sports to the region. And we can show how well we can manage this event. This will influence the way the international community sees our country."
And to win more gold medals Burma has dropped games that it's not strong in like tennis and gymnastics.
"Every participating team would like to get gold medals whenever they go back to their home."
In the initial lineup, badminton, table tennis and hockey were also out – but they're now back in the Games after heavy criticism from other participating countries.
Instead of tennis, cane ball, Burma's traditional sport will be included for the first time in the Games.
It's a dance-like sport played with a rattan ball.
40-year-old Thein Zaw Min is a professional cane ball player.
"When we went for competitions abroad, we felt like guests. It was a new environment for us. Now we are going to compete in our own country. We feel more confident. Because of this we feel that we can win half of the events."
What Burma has done is not totally new – other host countries also added local sports.
30-year-old May Zin Phyo has taken part in the regional Games for 14 times.
"When Vietnam held the Games, they included their domestic sports. We participated in the Games as friends because these competitions are supposed to be about friendship. Indonesia included domestic sports as well when they hosted the Games."
Indonesia's pencak silat and Vietnam's martial art vovonam are still sports in the regional Olympics.
Veteran sports journalist Khin Maung Htwe, says that many feel it reduces the quality of the Games.
"We should criticize such practices. We should place more emphasis on international sports. Including traditional domestic games costs time and money. And the athletes won't benefit because they will never be included in the next games. Burma should change its mentality... and stop trying to get most of the gold medals through domestic sports ....other ASEAN countries should do the same."
He says Burma needs to encourage more young people to take up sports.
"Most young people are too busy with school tuition and they don't have a chance to do any sport. Our children should have more time to play."
... and do lots of works to catch up to its neighbours in sports.
"When Gymnastics was introduced by Burma when they held SEA Games in 1969 they won the gold medals. But now when the Games return to Burma, they've dropped the sport because they don't have a strong team."
This year's Games have been promoted as a showcase of the newly reformed Burma.
But he thinks that Burma's quest to win 100 gold medals at the regional games is unrealistic.
"There are two main disciplines in the Games that offer 100 gold medals.... they're swimming and athletics. We don't know how many potential athletes we have in the two main sports. There are several sports that Burma doesn't have a chance of getting a gold medal in."