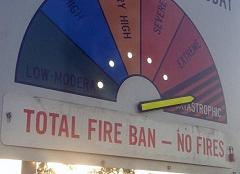 Download Fire crews are tackling dozens of bushfires in south-east Australia, as forecasters predict another spell of hot weather.

More than 100 separate fires are burning in New South Wales. Some 3,000 square km of land has been razed.

Wildfires plague Australia most years during the hot, dry summers but this year record-breaking hot weather has helped fan the fires.

In an unprecedented move, every National Park in the state has been closed, and people are being urged to get out.

Some people are taking heed of the warnings, but others are vowing to stay and fight.

Will Ockenden from Radio Australia has more.
With the worst bushfire conditions in New South Wales in decades, avid bushwalker Richard Thompson is reconsidering his hiking plans.
"Well, you can't walk in a situation like that and it's obviously dangerous to do so."
Across the state, two regions have the highest bushfire danger level of catastrophic, nine have the second highest of extreme. Seven parks in New South Wales already have bushfires burning, and for the first time the government's closed every national park in the state.
"If the park closure continues, I'd have to access whether it's wise to go anyway, even if the park were open."
Because the parks are going to be dry and really ready to burn?
"Yeah, this time of year with this sort of conditions, you have to think very carefully whether it's wise to go into some areas."
A heatwave has engulfed a huge region of south-eastern Australia, ranging from northern-Victoria, through New South Wales, into southern Queensland.
The bush, after a couple of years of good rain, has grow back and is thriving. Mix in the hot weather with forecast high winds and low humidity, and you've got highly dangerous conditions.
"I've just come back from walking in Kosciusko. Conditions there were quite green and quite nice, but with this sort of weather, things dry up so quickly."
Rangers from the Shoalhaven City Council, on New South Wales's south-east coast, have gone out into the bush to warn campers who may have missed the warnings.
Bill Patterson is from the council.
"We've looked at the riskier areas and we've gone out and talked to the campers, explained that the situation is quite serious, recommended that they not be on in those sort of conditions, but at the moment we are not forcing them to leave."
Inconveniencing campers is the least of his worries. The campsite is in an area of catastrophic fire risk, and there's a already a bushfire about 30 kilometres away.
"We'll be more concerned about I guess is people trying to evacuate on a fairly narrow track through thew bush."
The New South Wales Rural Fire Service says not being in a bush fire prone area is the safest option. Avoiding those areas though may prove difficult, there are now more than 100 fires burning across the state.
One of those is near the town of Oura and is 14 kilometres north east of Wagga Wagga.
"For me, it's not a worry. I know there's a few people on properties and in the townships of Oura that will be worried and I know that they've been evacuated and there are some staying to fight."
Harrison Lloyd Sewell is a resident of Wagga Wagga, and says he'd stay to fight if the fire came his way.
"We don't really have anywhere else to go. If it's to come to our place, it's going to take all of Wagga pretty much, so yeah, we'd be in a bit of strife. I don't know what we'd do actually."